FREE 1.2m x 1.2m Fire Blanket
Free fire blanket (EN 1869:1997) with purchase of at least 2 qualifying products.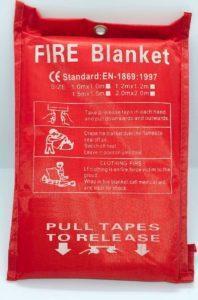 Additional Fire Blanket For Every $300 Cart Value
In addition, you get 1 additional fire blanket for every total cart value of $300.00 of qualifying products.
Example if your cart has a mix of smoke detectors and fire extinguishers amounting to $620.00, you will get a total of 3 fire blankets:
1 fire blanket from purchase of 2 qualifying products
1 fire blanket from 1st $300.00 of cart value
1 fire blanket from 2nd $300.00 of cart value
Buy More, Save More
The more you buy, the more you save!
10% discount with purchase of 2 qualifying products
12% discount with purchase of 3-10 qualifying products
14% discount with purchase of 11-20 qualifying products
16% discount with purchase of more than 20 qualifying products
Qualifying Products
Any smoke detector (Standalone Nano, Interconnect, Wifi Interconnect)
Any fire extinguisher (MQBS50 Fire Extinguisher, Car Auto Fire Extinguisher, Red Wine Fire Extinguisher, Burberry Fire Extinguisher)