Note: Only 3M double sided VHB form tape and cable ties are provided. The metal plate shown in above video (~15 second mark) is not included.
Car Fires Start From Engine Bay

Most car fires start from the engine bay due to the presence of many complex, high voltage electrical circuits. Especially so in the modern day's car where there's lots of electronics involved, such as automatic headlights, automatic wipers, automatic windows, automatic doors and so on. Not to mention the high operating temperature from the main engine block.
We all know fire spreads very fast. It is especially dangerous in a confined place such as a car where fire can burn from the engine bay to the rest of car is less than a minute. The situation can also be fatal if the passengers do not have time to escape or unable to escape, such as doors refuse to open due to the electrical circuit controlling doors damaged by the fire.
The "Common" Solution
A common solution to above problem is to have a fire extinguisher nearby, such as under the front passenger's seat. But due to space constraints, most have the extinguishers placed at the boot, which requires one to
leave the car
go to the boot
open the boot
retrieve the fire extinguisher
proceed to engine bay
use the fire extinguisher
A lengthy 6 step process and that's provided one is able to even do #1 – leave the car. Remember the fire could potentially damage the electrical circuit controlling the doors and refuse to open even if needed.
Our Solution
A better solution to the above lengthy 6 step process is to install our car auto fire extinguisher within the car's engine bay.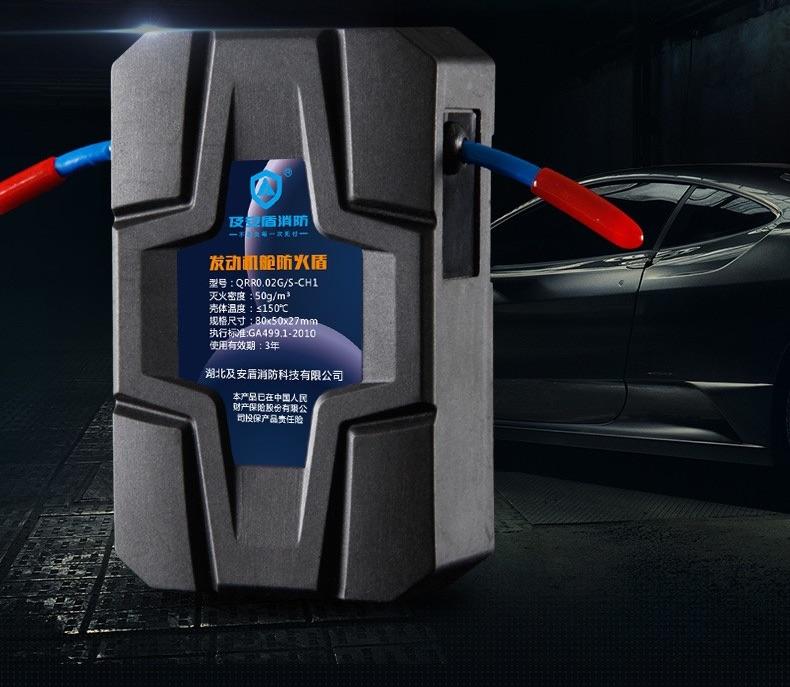 Small But Powerful Auto Extinguishing Device
Despite measuring a small footprint of 8cm by 5cm by 2.7cm, it packs an ultra high extinguishing efficiency with its strontium nitrate extinguishing agent.
Activation is by heat higher than 170°C. Once activated, the extinguishing mix is continuously discharged into the engine bay at an intense density of 50g/mᶟ  over a duration of ~6 seconds, potentially killing any fire in the initial stage.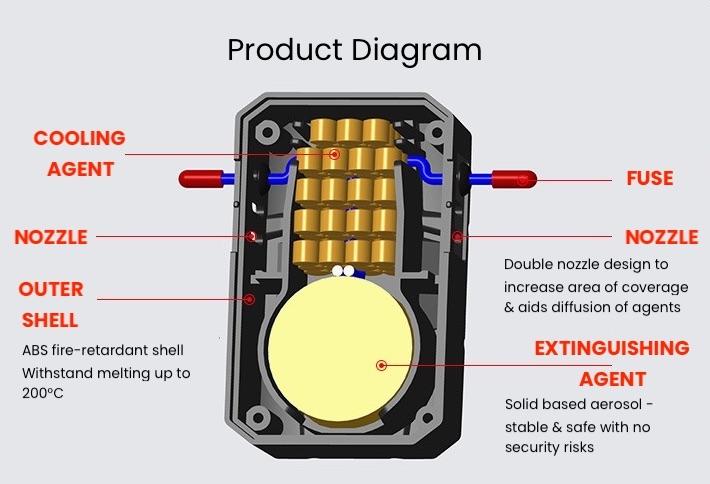 Coupled with its double nozzle design, it ensures a 360° extinguishing area.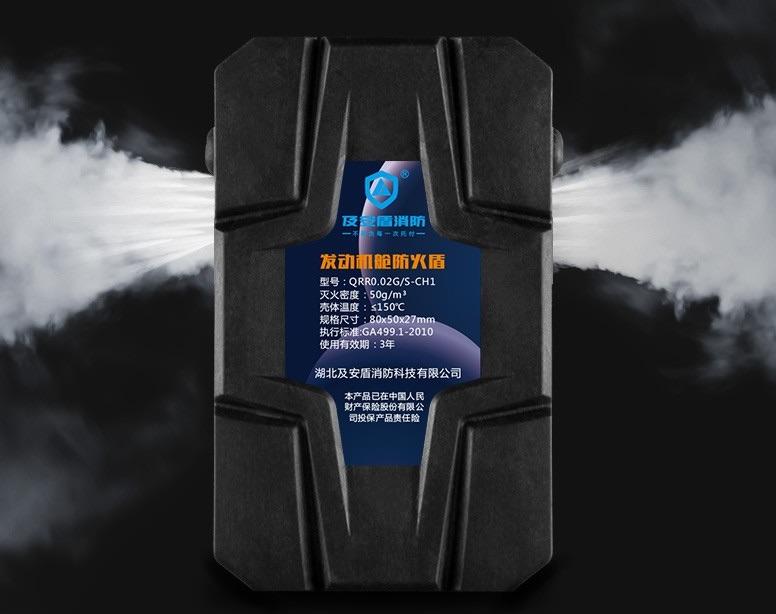 10 Years Validity
What's more, our auto car fire extinguisher has a shelf life of 10 years (coincidentally, that's the lifespan of a COE as well). This means once you install, you can literally forget about it until your next car purchase!
A reason for its long shelf life is also because unlike traditional fire extinguishers that are pressurized, this device is not pressurized.  So there's no worry about pressure leakage or having to worry about pressure dropping below acceptable range and having to send for servicing.
Environmentally Friendly With Minimal Residue
The strontium nitrate extinguishing mixture is also more environmentally friendly that the usual dry powder chemicals found in standard fire extinguishers. It also has the additional advantage of leaving less residue when discharged compared to standard fire extinguishers.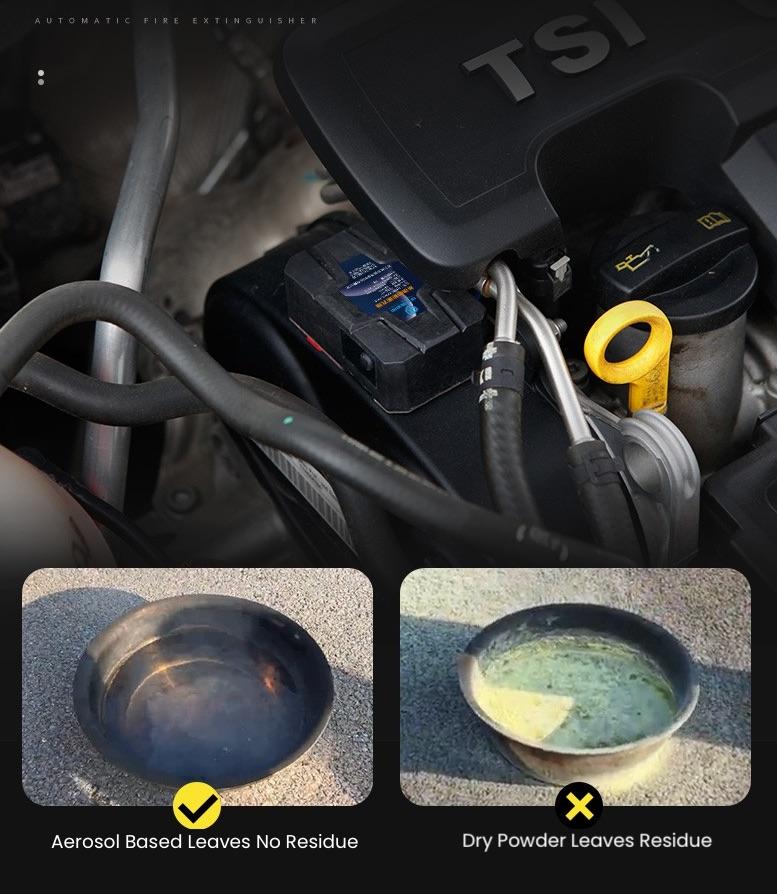 Easy To Install
Its small size also makes installation easy. The package also comes with a 3M VHB double sided tape for installation. Cable ties are also provided for a more confident secure.
Do ensure the area to install is wiped clean of dust & grease before installing the extinguisher with the 3M double sided tape. You may need to press and hold for a minute to ensure complete adhesion.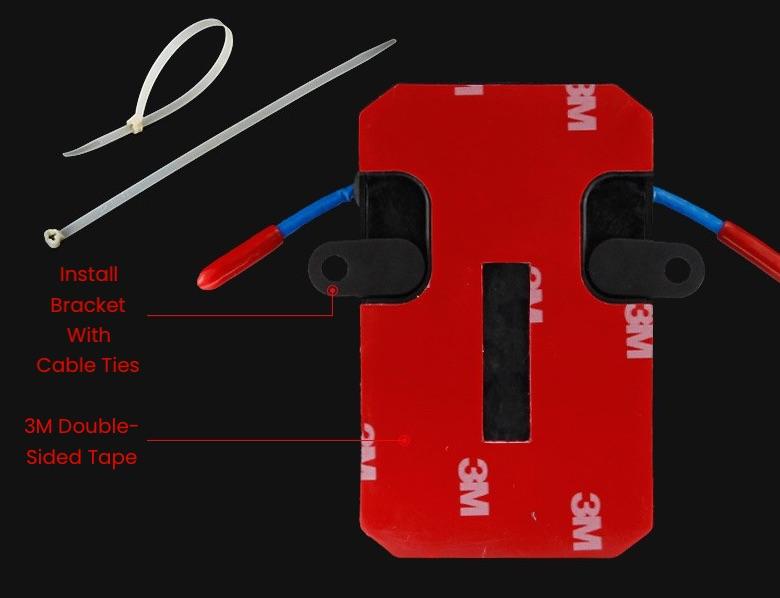 Some examples of locations to install are shown below. Do note that the following:
Have at least 10cm clearance from engine components that are very hot to prevent false activation
Avoid installation where extinguisher is in path of any hot air exhaust to prevent false activation
Do not have any obstacles within 5cm of the extinguisher , especially around the 2 nozzle outputs as that will greatly reduce the effectiveness of the extinguisher putting out fires.